⇐

Last Report
⇒

Next Report
October through December, 2016
Elk and Wolves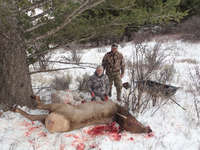 This has been another 3 elk year. Friend Ken got his bull and cow early in the season, in spite of the unusually mild weather. Due to the abundance of elk in the area Montana Fish, Wildlife and Parks sent us a letter encouraging us to allow hunting on our property for a special "shoulder season" lasting from the end of the regular season (Thanksgiving weekend) to January 1.
Marcus decided to try his luck, and brought along father-in-law Bob. At the beginning of December the weather finally turned cold and snowy, causing large herds of elk to camp out at our place. Marcus and Bob jumped in the truck and drove up from San Diego to do some hunting. They could have shot two elk before getting to the house: a large number of elk were sheltering above the creek next to the driveway. They decided to wait until they were better prepared. Marcus got his elk two days later, but the ensuing commotion must have scared the herd away and Bob did not get a shot in the days following. This picture shows Ken (kneeling) and Marcus preparing the kill to haul down the hill and take to the processor. Marcus wrote a detailed account of the adventure here.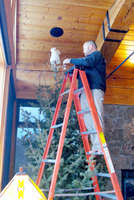 One advantage of having Marcus here was we could get him to help with this year's Christmas tree. Since there won't be a big family gathering this year, we intended to cut a small tree. However, judging the size of a tree in the field is difficult and we wound up with another tall tree. In fact, it is probably a bit taller than last year's tree and we had to bring up the 10' ladder again. We can't get much taller than this without placing the tree in a different location since this one is already about to scrape the ceiling (about 12' at this corner).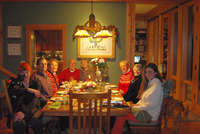 Our small Christmas Dinner included (left to right) Onyx, Arthur, Dennis, Terri, Gary, Pauline, Dick, Jane, Alixandra and Rosie (facing east). Pumpkin was in her usual place: under the table. Read Pauline's Christmas Letter here.
---
Wolves at Bridger Canyon Lodge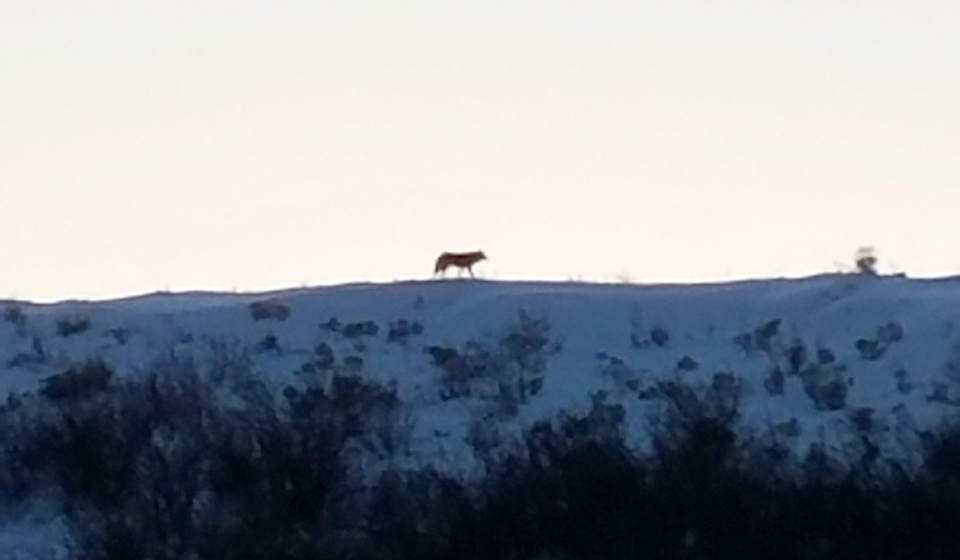 One of the implications of an over-population of elk is that predators are sure to follow. On 21 December, Rick and Cathy spotted what they thought to be a male wolf and his mate on the ridge west of the creek as they drove up to the Carriage House. The picture is so blurry, it could easily be a coyote; the nose appears to be pointy and it is difficult to determine if there is a fluffy tail. The pair were checking out the elk herd hanging out below the Main House. We are looking forward to having the MSU Wildlife Management Course place their cameras around the property again this winter. Perhaps we will get some better pictures.
---
⇐ Last Quarter
BCL Home
Next Quarter ⇒
---