⇐

Last Report
⇒

Next Report
April through June, 2016
Lions, Snow, France


11 May 2016 — Lookin' Out Our Back Door
---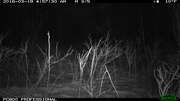 As noted last quarter, the MSU Wildlife Management course once more did their lab work on our property. One part of the lab is to locate radio collars the professor has hidden; in actual practice, these collars would be on wild animals. The other part of the lab is to place cameras where the students estimate there will be interesting activity; an important sub-part of that is to make sure they get good GPS coordinates for the placements so the professor can find them in a few weeks. The more trouble he has finding them, the more points deducted from the grade.
We know there are mountain lions around, having seen their kills; for many years we have been hoping to get a picture. This year a student finally caught four pictures of one. Mountain lions prowl in the dark, so the picture quality is poor; in fact, the contrast was so poor one could barely make out a shape. Gary improved the contrast and made a 4 second movie using the pictures. The students got a picture of a wolf two years ago, which is actually more unusual.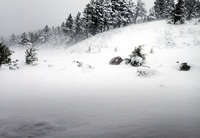 10 May: Four days ago we took the snow plow off the truck. Two days ago we were working the garden in shirt sleeves. Today we woke to over 8 inches of snow and a blizzard. We were supposed to drive 6 hours to attend an evening event in Kalispell and stay overnight before returning. As we started to the garage at about 8:30 with the last bit of luggage the power failed. While power outages in the canyon are common, this outage affected all of Bozeman.
Not wanting to open the garage door manually and take a chance on being able to get it locked shut, we chose to wait. The power came on an hour later. We headed out, figuring we would arrive just in time for the event. After very short distance we decided road conditions would slow us down too much and headed back to phone in our regrets and take tea in front of the fire. The storm continued to rage past bedtime, depositing more snow and drifting to over 3 feet deep in the driveway. The storm had been predicted to be rain with a little snow, ending by noon.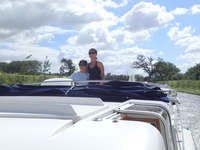 The report is being posted late this quarter because we left in early June for a "family reunion" in France. We did not get everyone together at once, but did manage to have 26 guests during our 4 week vacation. Prior to joining us on the Canal du Midi for a week, son Paul spent several days in Paris where he proposed to Xue (pronounced shoe-ahh). They are pictured here steering our boat up the canal. Oh, yes — she accepted.
The trip was ostensibly Gary's 70th birthday celebration and he designed it to be a "do it yourself" vacation. We rented the boat for two weeks and did all the work of driving, getting through locks and fixing meals ourselves. Since we spent most of the time along a sparsely populated section of the canal we had to go into the markets in small villages to obtain day-to-day necessities. We also managed to find small family operated wineries to stock up on wine for the meals.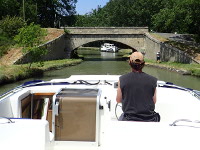 The boat was 48' long, with 5 bedrooms, 3 baths, a kitchen and dining room. It was just narrow enough and just low enough to fit through the smallest bridge openings; one often had to duck very low as we passed under a bridge! This video shows Arthur driving under one of the lower (not lowest) bridges; here, sitting was safe, standing was not.
We divided the canal portion of our trip into two weeks, with a different crew each week. Pauline could not start the cruise on the first day due to her gall bladder surgery, but was able to join us on the 4th day in Carcassonne. Gary was on the boat for 173 kilometers (about 107 miles) and passed through 102 locks.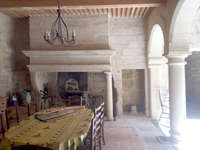 The second two weeks of the vacation were much less constrained. We rented a house whose roots dated to the 13th century. It was in a small village and the remainder of our guests could come and go as they pleased rather than be confined to boating duties. The house had large kitchen and dining room, a living room and 4 bedrooms, each with a bath. An ancient stone spiral staircase wound 71 steps up from the laundry room and "basement" to a small room at the top where one could lounge with a 360° view of the countryside and the Mediterranean Sea. The only thing taller was the nearby church steeple (there is probably a law about that). The church bells rang on the hour and half hour, so there was no need for a watch. The village was well-placed for interesting day trips to historic sites. It was equipped with satellite TV so we could watch Wimbleton and the soccer matches in the evenings. In such a small village we felt safe teaching the grandchildren enough French that they could go by themselves to the local patisserie to buy pain au chocolat, croissants and baguettes for the morning meal.
---
Parting Shot
100 Trees Blown Down?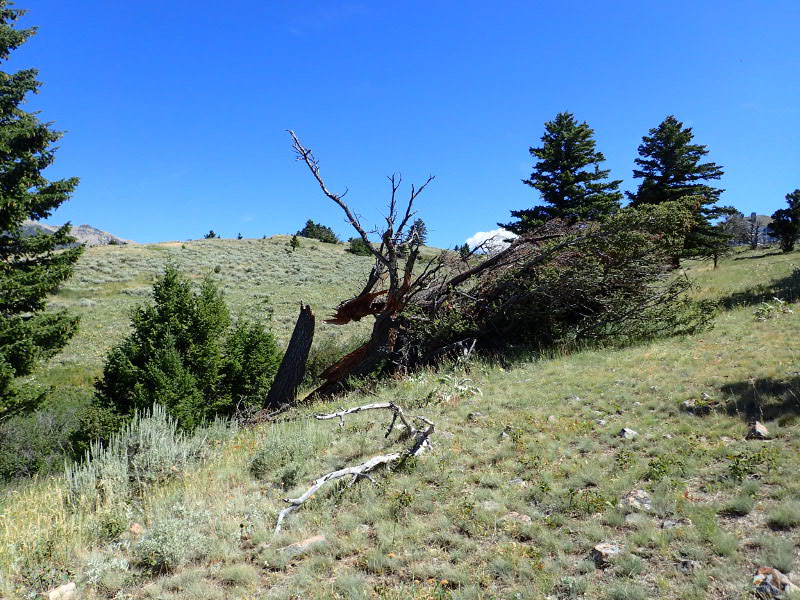 Since last spring of 2015, we have had a number of large trees blown down. Last year, high winds knocked down trees in spring and in fall, then the heavy snow coupled with high winds downed many trees this spring. We estimate that as many as 100 trees may have been felled, but there is no apparent damage within sight of the house. When you have 10,000 trees, 100 is probably just about a normal casualty rate.
---
⇐ Last Quarter
BCL Home
Next Quarter ⇒
---