⇐

Last Report
⇒

Next Report
October through December, 2017
A Historic Quarter
Much of this quarter was taken up writing our respective family histories. Pauline benefitted from extensive research done by sister Jan while Gary was able to make use of research done by a number of family members plus information from genealogy web sites. As part of our efforts, we both submitted DNA samples to Ancestry.com and discovered some close relatives we were unaware of.
We had a goal of finishing the family history for Christmas. Our efforts produced a 210 page document full of stories, tables and pictures. Working with BYU's printing services, we were able to have our tome beautifully printed, bound and delivered in time to put under the Christmas tree for our children.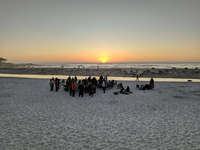 October was a momentous month as the family gathered to celebrate the wedding of Paul and Xue. The venue they chose was the Carmel Highlands, near Big Sur on the California coast. Pre-wedding events included a cookout on the beach at sunset.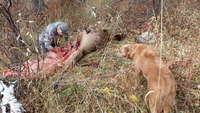 This year the weather cooperated to make an excellent first day of rifle season: there was a sudden cold snap with high winds and snow on Friday evening and Saturday dawned cold and clear. Friend Ken came up to try his luck and got a small cow by mid-morning. Gary heard the shot and soon got a call from Ken (cell reception is available on upper part of the property). He hiked up with Rosie to find Ken. Rosie was not sure what to think of all this excitement and was a little cautious about approaching one of the animals she has only barked at from afar. Gary then hiked back down to get Ken's game sled and move his truck to a place near the trail. By the time he got the game sled up to the kill, more help had arrived and the kill was soon in the back of Ken's truck.
Starting November 1 we got a lot of snow. The elk started hanging out below the Main House; some even bedded down on our lawn, which distressed the dogs. They seem to know Pumpkin is getting too old to chase them and Rosie is too timid, so they just stand and stare the dogs down. On November 11, Ken got his second elk not far from the house; it was a lot easier to get that one into the truck.
Montana still thinks there are too many elk in our area and have asked again that we allow hunting during an extended "shoulder season" that lasts until January 1, 2018. Marcus and Kendal are hoping the elk stick around so they can get one (each) when they come up for Christmas; stay tuned for results.
When the elk are here, we get coyotes as well. Pumpkin is not happy about coyotes on her territory and tries to chase them. At the end of November, she chased one and wound up surrounded by three. She got a nasty nip on her hindquarters before Gary got out his air rifle (which makes a very convincing sound) to scare them away.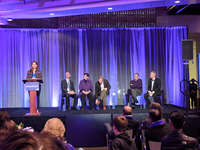 In mid-December, we were invited to a "topping out" ceremony for the new Computer Science building at the University of Washington, where we joined other donors to sign the last beam to be placed – considered to be the halfway point in construction. Bill and Melinda Gates were there to announce their donation of $15 million, the final amount needed to fund the construction. The completion ceremony for the building is scheduled for January, 2019.
A video of the actual beam raising can be viewed here. The signatures (about 300 of them) can be seen in several of the shots. The signal the workmen give at the end of the video is the "W" for the University of Washington.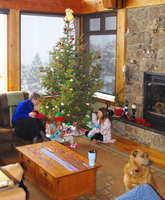 As in previous years, we walked a short distance from the house and picked out a tree. This year we picked the shortest one yet — only a hair over 9 feet. We managed to decorate it without having to get out the 10 foot ladder. Marcus, Samantha, Lauren, Allison, Dan and Kristina arrived Saturday, 22 Dec, between snowstorms. We're having a winter storm today (Christmas Day) which will probably not let up before 8 more guests arrive for Christmas dinner. Gary will be out shoveling and plowing just before scheduled arrivals!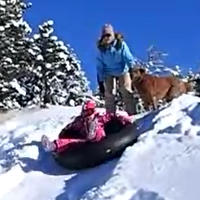 After the big snow at the beginning of November we had a warm spell that melted everything. The prospects for a white Christmas looked bleak for a while, but about a week into December it started to snow — to the point we had record snowfall for the month of December. Setting up our own tubing hill was no problem.
The elk were notable by their absence in late December. We think the heavy snowfall has driven them to lower elevations. This is likely to be a difficult year for the elk, as the heavy snow in early November knocked down much of what forage was left from a dry summer.
---
Family Christmas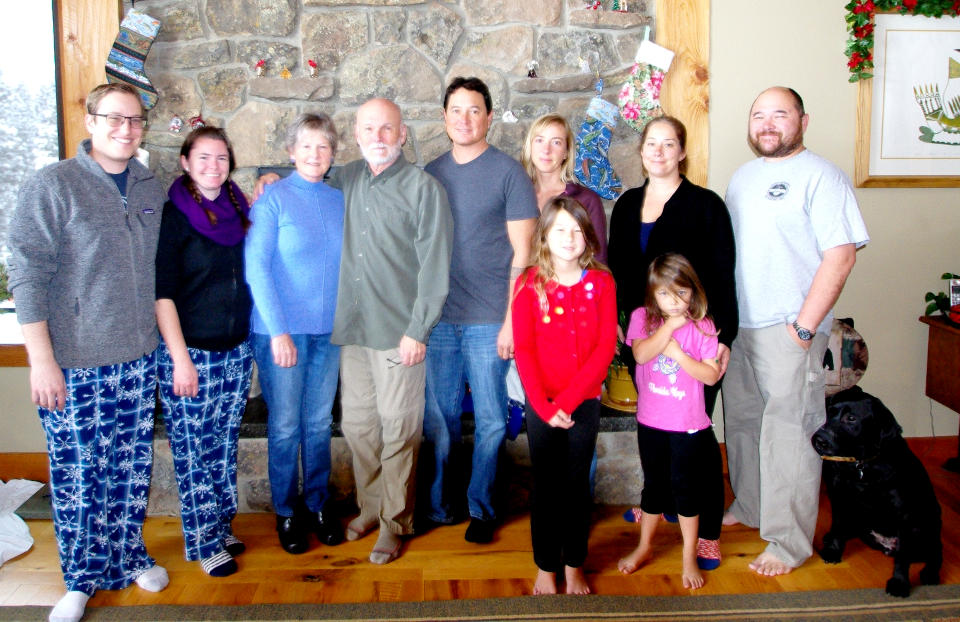 Left to right: Brandon, Kendal, Pauline, Gary, Dan, Kristina, Samantha, Marcus; front: Lauren, Allison, Bella.
---
⇐ Last Quarter
BCL Home
Next Quarter ⇒
---