⇐

Last Report
⇒

Next Report
January through March, 2018
Moose Crossing & Yellowstone Wolves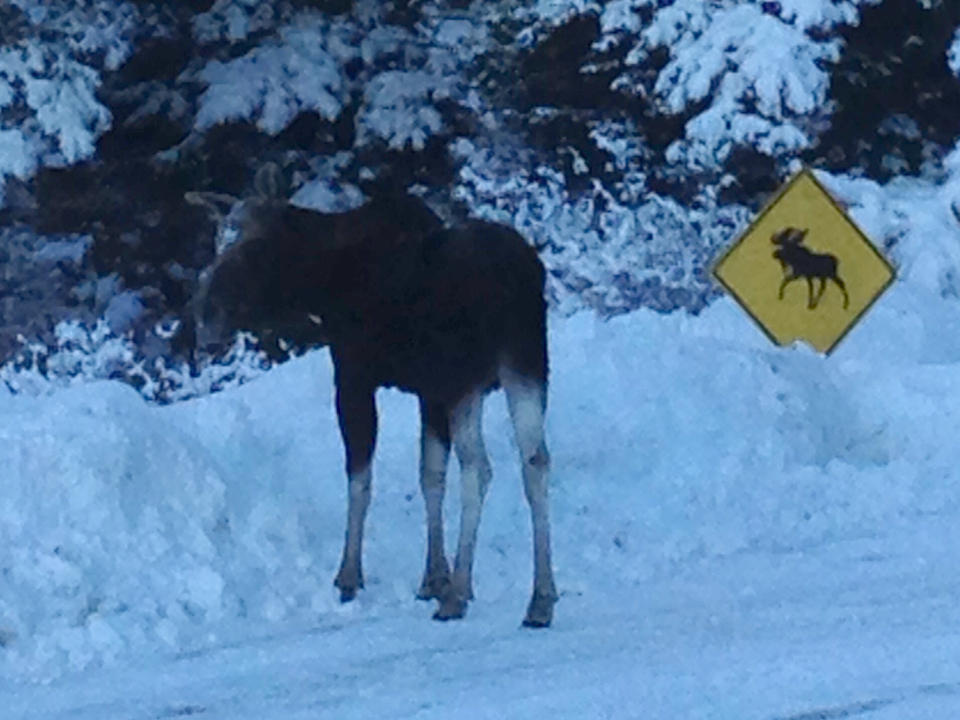 Visitors often chuckle at our "Moose Crossing" sign, but we spot moose around our property several times per year and find signs of them wandering near the house often. Moose are crepuscular and usually hide during the daylight hours, making it a rarity to see one in good lighting conditions. Claire woke to find two moose wandering up the driveway in the morning twilight and managed to get a picture of one next to our sign.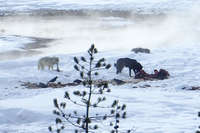 One of Gary's long-time friends visited last quarter and mentioned a winter trip to Yellowstone was on his bucket list. We arranged a 5-day, 4-night trip into Yellowstone with him and his wife in mid-January, including a two night stay in the Snow Lodge at Old Faithful. As usual – even after our many, many trips to Yellowstone – we were treated to new sights. The highlight of the trip was to see a wolf pack devour a young bison. They killed the bison about 50 yards from the road; that is ½ the distance the park service requires people to stay from wolves, but this was unavoidable. Our itinerary took us past the fresh kill three times in two days; by the second day some fur and bloody snow were all they had left. There are three wolves in the accompanying picture and seven if one opens the large version; several wolves are laying in the snow and appear to be logs. For wolf aficionados, it was the Wapiti pack and the location was near Nymph Lake. Estimates of the pack size vary from 19 to 26 wolves.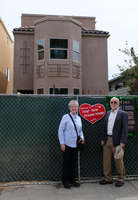 We are anticipating the day we will no longer want to deal with the hardships of living in Montana (long winters, muddy springs, dry air, ...) and agreed southern California would have a kinder climate and put us closer to the kids and grandkids. We wanted a place we could walk to parks, beaches, restaurants and shopping and have a short commute to the benefits of a large city. We were familiar with Pacific Beach (a suburb of San Diego) and began our search there. We soon found a new home under construction in a nice neighborhood and decided to buy it so we can take breaks there and prepare it as our eventual full-time home. The address is: 1259 Thomas Avenue, Pacific Beach, CA 92109. Details are available on Zillow.com – for a while.
The actual purpose of our trip was to see granddaughter Lauren perform in the school play: Oklahoma. She played several small parts and is looking forward to larger parts next year, when she will be in middle school.
We hurried back from San Diego to meet Gary's cousin Theresa and her eight year old daughter Grace, visiting us from Oklahoma. Theresa is legally blind with Stargardt Disease. She and Grace were interested in skiing, so we signed Grace up for beginner classes at Bridger Bowl and signed Theresa up to ski with volunteers from Eagle Mount. They both made excellent progress and want to return for more.
---
Sidebars
---
⇐ Last Quarter
BCL Home
Next Quarter ⇒
---