⇐

Last Report
⇒

Next Report
April through June, 2018
Pacific Beach and Europe
The official winter snow season began October 3, 2017, with 1½ inches recorded at MSU and a record-breaking 143.5 cumulative inches recorded by the end of April. We usually get ½ again more snow than town so probably got over 200 inches at the house. The last day of snow (we hope) was June 11, making nine straight months with snow! We had a substantial snowfall in the first week of November and did not see much bare ground until late April, so had six solid months of snow on the ground at the house. That did major damage to the lawn and will require a great deal of work to repair.
Though the winter was not terribly cold, the snow was very hard on wildlife. By December the elk had given up on being able to graze and we did not see them again until April, which put a crimp in Marcus and Kendal's attempt to bag an elk over Christmas. We don't know where the elk went, but they looked pretty emaciated when they returned. The heavy snow also put a damper on the MSU students' efforts to get pictures of wildlife so we did not get any interesting pictures from them.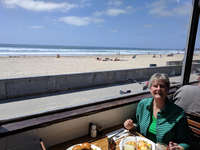 We spent a lot of time in early April collecting items to take to Pacific Beach for the anticipated closing on April 30. We rented a small UHaul trailer and loaded it up, starting down on April 16, towing it behind our little Toyota Tacoma pickup. That evening, having driven almost ½ way to San Diego, we got a call informing us the closing would probably be May 11. Arriving in Pacific Beach, we unloaded our goods in son Paul's garage, spent several days shopping for furnishings and arranging new delivery times for the modified closing date. We also took time out to enjoy one of the things that attracted us to Pacific Beach: lunch at one of the many beach-side restaurants within easy walking distance of our new home away from home.
Leaving our little pickup in Paul and Xue's care, we booked return flights to Bozeman to do some de-winterizing at home. Closing occurred on May 4 and we took a return flight May 10 to set up a semblance of housekeeping. The week was a whirlwind of activity as we managed to get several rooms of furniture (mostly) complete, window treatments installed, pictures hung, lights and switches modified, internet connected and security system activated. Early on May 19, we started a two-day, 1,200 mile trip back to Montana in the little truck to finish de-winterizing and to prepare for an upcoming trip to Europe. It was a hectic two months, but we realize a lot of people would love to have our problems!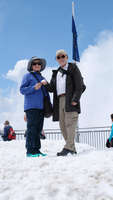 Our time in Pacific Beach and three weeks of travels to Europe allowed us to miss some of the snow back home. Goals of our Europe trip included seeing the North Face of the Eiger, taking the train to the Jungfraujoch, and visiting some of the places Gary's mother and step-father had been stationed in Germany. Ironically, that meant much of the early portion of the trip was spent in snowy places like the Zugspitze (pictured here) and Swiss Alps (pictured below).
Our travels included Switzerland, Germany, Austria, the Czech Republic, Slovakia, and Hungary. The last portion of the trip was a cruise down the Danube with Pauline's sister Jan and bother-in-law Mike. A few favorite parts of the trip were the orchestra in Vienna, touring Bratislava, an organ concert in Budapest, and the architecture in Budapest.
---
Sidebars
---
⇐ Last Quarter
BCL Home
Next Quarter ⇒
---