⇐

Last Report
⇒

Next Report
October through December, 2018
Pacific Beach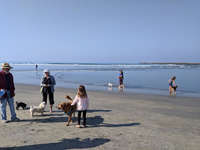 We had a relatively uneventful October during which we organized things to take to Pacific Beach. We hooked up a rental trailer full of those things, loaded up the dogs and headed south on 30 October. After an uneventful three day drive we arrived on 1 November and introduced the dogs to their new home for the next three months. We were concerned how the dogs would adapt; there were many new experiences: a small yard, many neighbors close by, walking on a leash, traffic, electric scooters, and ocean beaches. They quickly grew accustomed to the new environment and especially liked the nearby dog park on the Pacific Ocean beach and regular walks along Mission Bay.
In this picture, grandchildren Allison and Lauren try to entice the dogs into the surf at the dog park. They were only willing to get their paws wet while other dogs were enjoying chasing balls thrown into the surf.
Back home in Montana, friend Ken and caretaker Claire bagged a total of three elk on the property. There is still plenty of hunting possible: FWP has extended the season on our property to 15 February 2019.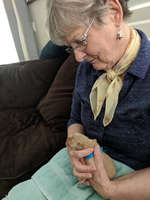 In November we made more progress getting the new house furnished and entertained several visitors, including a couple of overnights for Lauren and Allie on school holidays. On 9 December Marcus and Sam's dog Bella began to deliver puppies but ran into complications after successfully delivering three pups. Bella had to be rushed to the vet early in the morning. We drove up to Carlsbad to help take care of the hours-old pups while their mom was out of commission. The remaining six pups were delivered by C-section, with one stillborn. Bella recovered quickly and was able to take over some of the puppy care late in the day.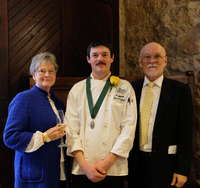 A big event for December was Arthur's graduation from the Culinary Institute of America north of San Francisco in Saint Helena. We considered boarding the dogs while we attended the ceremony, but decided that would be about the same expense as flying Claire down from Bozeman to take care of them. So Claire got a short vacation from the snow in Montana and the dogs were pleased to see a familiar face while we were away.
On 18 December we flew to San Francisco to meet Kendal, Brandon and Paula, then drove to Napa to meet Paul, Xue and Alixandra for dinner. Arthur could not join us because he was getting things ready for his graduation the following day.
The following day the graduation went smoothly and the food served at the reception was first rate! And we got to meet many of the people Arthur had worked and studied with for the past two years.
The next day Alixandra arranged a special tour of Pride Mountain Vinyards. Then we headed back to the Bay Area to check out Kendal and Brandon's progress on their house and catch a flight back to San Diego.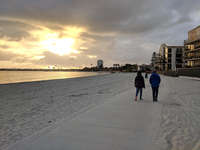 An unfortunate side effect of the graduation trip was all the women caught a very bad cold. Strangely, the ailment did not seem to affect the men. Pauline spent all of Christmas day in bed and we broke our family activities into several small events spread over the Christmas to New Year's break. Gary and Brandon took a road trip to pick up a new car (see Sidebars below).
In this photo, Xue and Pauline enjoy a short evening walk on Mission Bay on New Year's eve.
Just before the New Year we got permission from SDG&E to put our solar panels online – just in time to get a federal tax credit for 2018. The panels should generate almost as much power as we use on average but we do not have energy storage so during the middle of the day we pump excess energy back into the grid. That means we typically don't take energy off the grid during the hours demand on it is at peak, we get credit for the energy we put into the grid, and we get lower rates for electricity from the grid we use during "off peak" hours.
---
Sidebars
---
⇐ Last Quarter
BCL Home
Next Quarter ⇒
---