⇐

Last Report
⇒

Next Report
July through September, 2019
Great Sadness ..... Some Joy
It has been a long time before I could bring myself to write this quarter's report. I normally finalize our reports in the days immediately following the close of a quarter. It is now December and it is still very difficult to write this.
September 2 was a day of tragedy for our family and we are all still in recovery. On that day we learned that Kristy (Dan's wife) and her group had chartered a boat that caught fire. We spent that day hoping to hear some news that she was okay, but it was finally apparent she, along with the 32 other members of her group plus one crew member, had perished.
Dan and Kristy had recently returned from almost 3 years sailing the Pacific Ocean. They had just sold their boat and purchased a home. They were in the process of expanding their dive tour business to be their full-time occupation. Life was looking rosy for them. Kristy was leading the fateful dive tour off Santa Barbara while Dan was leading a tour in the southern Caribbean Sea. By the time we could get in touch with Dan at sea and get him to Santa Barbara, three days had passed. The entire city of Santa Barbara was in mourning and did much to support the families that came to deal with the aftermath of the tragedy.
Much of our time, and especially Dan's time, has been spent dealing with all the unpleasant issues that follow an unexpected death. The legal issues and arguments surrounding this tragedy will serve to resurrect unpleasant memories for many years to come, but will never restore the loss.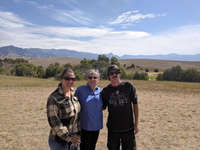 The tragedy overshadowed our good news....
Arthur and long-time girlfriend Alixandra have decided to get married! They have selected a date and a venue pictured here (with the option to be indoors if weather is bad). The ceremony and reception will be at Foster Creek Farm. We will leave it to them to send out the "Save the Date" annoucement.
Arthur is well established as a cook at Cafe Fresco, one of the finer restaurants in Bozeman. Alixandra works as an event coordinator at Foster Creek Farm. In other good news, they have bought a new house in nearby Belgrade.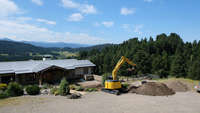 Summer started off with the work on fixing the leak in our garage roof. This is a major undertaking, as we had to remove all the soil and rocks covering the roof. Workmen in Bozeman are consumed by all the new home construction taking place, so it is difficult to find people to work on "small" projects. We finished the quarter with a completely exposed roof and no idea when we would be able to get it repaired.
In July Gary traveled to Shawnee, OK, to move his aunt Faye Ellen into assisted living and deal with the sale of her home. Gary is now her legal guardian so he can help with all matters concerned with finances and health.
As is often the case, we had lots of visitors. And, in other news, Kendal's business was featured in a local Bay Area paper.
---
⇐ Last Quarter
BCL Home
Next Quarter ⇒
---