⇐

Last Report
⇒

Next Report
April through June, 2019
New Grandchild!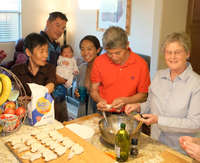 One of our commitments in PB was to be there for the birth of a new grand-daughter. The predicted date for her birth was early April so we left Bozeman late afternoon on March 27 hoping to make it for the birth. Still on the road March 29 we got a message that mother-to-be Xue was going to the hospital and would deliver soon. We arrived later that day to find things had slowed down; the baby (finally) arrived March 31. The baby's name is Jade Cheng Yu Chua.
Xue's parents arrived soon after the birth to help the new parents. Before they returned home, we had a party with a Chinese family tradition of making dumplings. Pictured here are Wenqing and Xiaolin (Xue's parents) with Paul, Jade and Xue in between and Pauline on the right. The way Wenqing prepared the dough for dumplings reminded us of the Pixar short film Bao ("Bun"). It has played as a short before several movies, but it is difficult to find online. Apparently, "bun" and "dumpling" are euphimisms for "baby" in both eastern and western culture!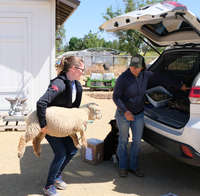 Of course, April was full of us visiting the baby and friends visiting us. In early May, Kendal came down from the Bay Area to pick up her Babydoll Sheep. We accompanied her to a farm near Temecula to pick them up and load them for the drive home. She will be using them as part of her Urban Farming classes. You can follow her (and see more pictures of sheep, chickens and bees) on her Facebook page.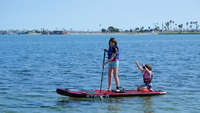 Memorial Day weekend saw a lot of clouds and rain, but we had one pleasant afternoon with grandchildren Lauren, Allison and Jade on the beach at Sail Bay – the arm of Mission Bay four blocks from our house. Sail Bay is a great place for beginner paddle-boarders (like Lauren and Allison) and other water activity novices because it has no currents or surf and is more protected from the wind than the ocean beach. The water is also warmer than the ocean. This was a very calm day, so sail boats and kite surfers were not in evidence.
June was time to head back to Bozeman. This was our first test of a cross-country drive in the Tesla. There are a number of good trip-planning tools on the web as well as in the car itself. These tools use data other Teslas report regarding energy use for the highways, so it was not surprising that they were accurate (actually, they were a bit conservative). Total energy cost for the trip was $0 because we were still getting free supercharging. The predicted cost for the 1250 mile trip was $85, which would have bought 25 gallons of gas (assuming $3.40 per gallon). This yields an equivalent gas mileage of about 50mpg – not bad for a car with performance near to that of a BMW M3. While many critics note the need for charging stops, they are convenient to food and bathrooms as well as providing a chance for the dogs to get a little exercise. We easily made the trip in two days.
Back home in Bozeman we were very busy finishing de-winterizing and preparing for an onslaught of visitors in July.
---
Rosie has appointed herself Jade's protector. Rather than being on the heels of Gary or Pauline, she sticks close to Jade.



---
⇐ Last Quarter
BCL Home
Next Quarter ⇒
---